EUROCAM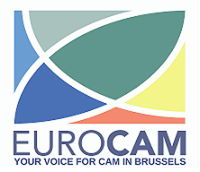 EUROCAM is a European platform for organisations representing patients, medical doctors, veterinarians and practitioners in the Complementary and Alternative Medicine sector.
The aim of EUROCAM is to promote the contribution of Complementary and Alternative Medicine to better health in Europe.
EUROCAM represents acupuncture, Ayurveda, anthroposophic medicine, herbal medicine, homeopathic medicine, naturopathic or traditional European medicine, osteopathy and traditional Chinese medicine.
The practice of CAM modalities is based on clinical expertise, which has been collected in the course of their existence, and the best available clinical evidence from scientific research built over the last few decades.
The objective of EUROCAM is to promote and facilitate CAM's role in enhancing and maintaining citizens' health, highlighting health promotion as well as CAM's contribution in preventative healthcare.
EUROCAM focuses on CAM's place in EU public health policy and programmes.
EUROCAM emphasises the accessibility and affordability of CAM.
EUROCAM advocates for CAM with EU policymakers.