Ayurvedic Professionals Association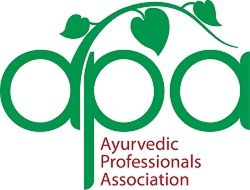 The APA is a non-profit, voluntary register for Ayurveda within the UK. The APA maintains a register of Ayurvedic professionals in the UK who are bound by the code of ethics set by the APA and have full insurance.
The APA as a professional organisation monitors members, all of whom need to show Continues Professional Development and learning (CPD), as well as current insurance in order to remain on the APA database. Additionally we encourage APA members to update their profiles and include contact and website information where available. The APA has volunteer committee members who meet regularly to oversee all aspects of the organisation, names are listed on this site under committee.
Additionally the APA has a procedure designed for the public to raise any concerns regarding treatment received from a practising APA member.
The APA aims to develop the profession, support members and help to create, promote and protect unity among Ayurvedic professionals.
The APA supports education providers and encourages co-operation when setting standards of education for Ayurveda within the UK.
The APA works with the Government within the UK towards Statutory Regulation.