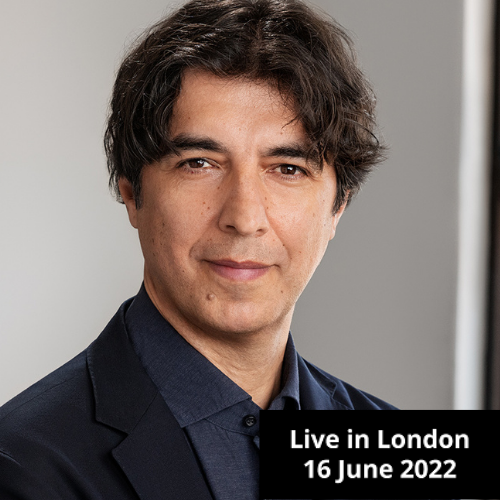 Prof Valter Longo
Scientific pioneer of longevity and author of 'The Longevity Diet', USA
Dr. Valter Longo is the Edna M. Jones Professor of Gerontology and Biological Sciences and Director of the Longevity Institute at the University of Southern California –Leonard Davis School of Gerontology, Los Angeles, one of the leading centers for research on aging and age-related disease. Dr. Longo is also the Director of the Longevity and Cancer Program at the IFOM Institute of Molecular Oncology in Milan, Italy.
Dr. Longo studied biochemistry and Jazz performance as an undergraduate at the University of North Texas, and received his PhD in Biochemistry from UCLA, where he worked under calorie restriction guru Roy Walford, MD. He completed his postdoctoral training in neurobiology with longevity pioneer, Caleb Finch, PhD. He also received extensive training in immunology, endocrinology, microbiology, genetics, molecular biology, and pathology.
His studies focus on the fundamental mechanisms of aging in simple organisms and mice and on how these mechanisms can be translated to humans. The Longo laboratory has identified some of the key genetic pathways that regulate aging in simple organisms and has demonstrated that the inactivation of such pathways can reduce the incidence or progression of multiple diseases in mice and humans. His laboratory has also developed both dietary and genetic interventions that protect normal cells while sensitising cancer cells to chemotherapy— interventions now being tested in many US and European hospitals.
The Longo laboratory recently published key findings on a 5 day periodic dietary intervention called Fasting Mimicking Diet (FMD), and showed in randomised clinical trials that FMD reduces the risk factors and markers associated with aging and diseases. Dr. Longo's most recent studies focus on the use of FMD interventions to activate stem cell- based regeneration to promote longevity.
Dr. Longo has received numerous awards for his work: the 2010 Nathan Shock Lecture Award from the National Institute on Aging (NIA/NIH), the 2013 Vincent Cristofalo "Rising Star" Award in Aging Research from the American Federation for Aging Research (AFAR), the 2016 Merz Professorship, the 2016 Boehaave Professorship, the 2016 Jubilee Professorship, and the 2016 Glenn Award for research on aging. In 2018 he was named by "Time Magazine" one of the 50 most influential people in health care for his research on fasting-mimicking diets as a way to improve health and prevent disease.
Professor Longo's core objectives are: to offer treatment and other health services to patients with serious diseases and to those who seek to halt the onset of such diseases; to educate the public—both adults and youth—about how to live a long and healthy life; to sponsor research to develop innovative and crative treatment strategies that are affordable and accessible to all; and to identify ways to prevent specific diseases.
To achieve these goals, Professor Longo devolves all profits from his books to research and programs, some named above and all made possible by his Foundations, Fondazione Valter Longo in Milano and Create Cures Foundation in Los Angeles. These books include the best seller "The Longevity Diet" and the 2 Italian books "Alla tavola della longevità" ("At the Table of Longevity"), and "La longevità inizia da bambini" ("Longevity Begins in Childhood"), the latter of which will be published in September.