Cannabis (seeing through the smoke): The New Science of Cannabis and Your Health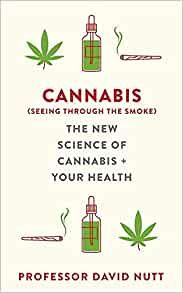 THE DEFINITIVE GUIDE TO CANNABIS AND YOUR HEALTH

Underpinned by his two-year research trial in partnership with the Royal College of Psychiatrists, involving up to 20,000 patients, which will create Europe's largest body of evidence on the plant's medicinal qualities - Professor David Nutt and his team of scientists will break the mould on the way we use Cannabis for our health in the future.

In David's first ground-breaking book on the subject, he will cover its impact of all areas of the body and the brain and its effective use for treatment of illness from chronic pain, epilepsy, multiple sclerosis and PTSD, to anxiety and depression. This is the essential knowledge that cuts through the noise and give us evidence-based information that will change people's lives.
Click here to buy 'Cannabis (seeing through the smoke): The New Science of Cannabis and Your Health'