Your Blueprint for Strong Immunity: Personalise your diet and lifestyle for better health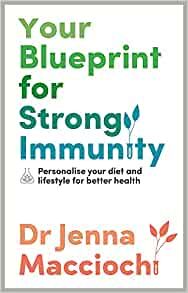 Your Blueprint for Strong Immunity breaks down the science behind our health and shares the secrets of how to be well, for good.

Expert immunologist Dr Jenna Macciochi has over 20 years' experience as a scientist researching the impact of lifestyle on the immune system in health and disease.

Your Blueprint for Strong Immunity guides you through your very own health MOT and Jenna will help you audit your current lifestyle so you are able to identify key areas that might not be serving your health well. In Part Two, you will learn what to do when you fall ill, how to recover from infection and how to build mental resilience. Part three explains how to support your immunity when you live with chronic illness. She includes over 20 of her own delicious and simple recipes to help you nourish your body.